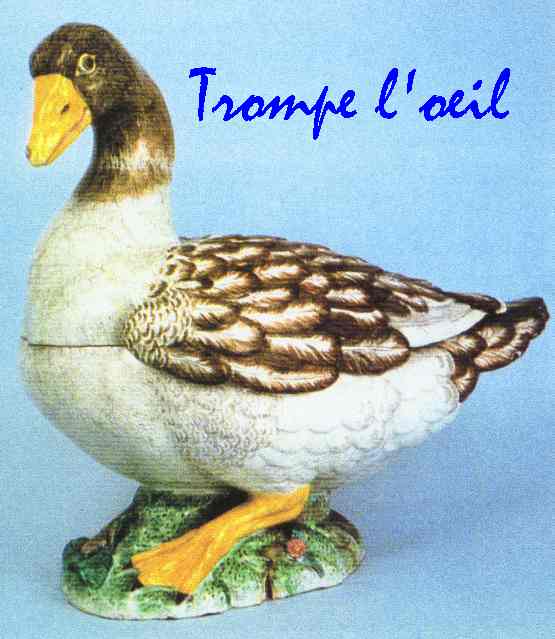 A French term meaning "Fool the eye", in French rendering a subject with such detail and attention to lighting and perspective that the finished piece appears real.
The 'Trompe l'oeil' has been in existence for a very long time, the walls of Pompeï (the town near Napoli, covered with ashes after the Vesuvio erruption) in the beginning of the Christian era, are covered with plenty of them.
In Italy, in Austria, in Bavaria, the most famous painters of sixteen, seventeen and eighteen centuries were decorating the castles and the villas with marvelous works that we can still admire.
In Strasburg, the Hannong family realised remarkable works in ceramic, and also in Brussels. Then the fashion and the taste, at the end of the 19th century, increased the number of collectors.
Here there are some examples, which are amusing the eye for more than one hundred years.
Click on the photo in the list to see it at the screen size.


Majolica box representing a cocoa husk
circa 1880
Marque : * * * *
Dimensions :
L : 9 ¼ inches
l : 4 ¼ inches
H : 6 inches
T2
Majolica box basket full with chestnuts by Sarreguemines circa 1900.
Diameter : 7 inches
H : 3 ½ inches
T3
Biscuit ware match box from
Vienna (Austria-Hungary) circa 1870.
Scraper under the cover.
Wad of hundred florins, with a red wax seal on the side.
The Bank notes are dated from 1858.
On the cover are two unreadable signatures, with :
WIEN 1th JANUAR 1838
and in the two circles, a legal text.
T4
The same matchbox, open.
T4
12 China dessert plates circa 1895 decoration of birds, insects and flowers.
The upper part (three plates) is the cover of this box.
Diameter : 5 ½ inches
H : 2 ¾ inches
T5
Cabbage box by NIEDERWILLER, with its original presentoir.
circa 1870.
H : 6 ¾ inches
Diameter : 9
T6
Mustard-Pot
made in DIJON the French capital for mustard.
Turning of the last century signed : Julien MACK.
Dimensions :
L : 5 inches
l : 2 ¾ inches
H : 2 ½ inches
T8
Wild pig tureen
by Villeroy & Bosch
Mettlach (Germany)
circa 1880
Dimensions : 11 3/4 x 8 inches
H : 6 1/2
T9
Addition May 5th, 2000

Extraordinary piece, unsigned,
Choisy le Roi circa 1880
with the inimitable glaze of Honoré Boulanger !

Dimensions : 5 3/4 x 4 1/2 inches

T10
Click here to return to home page
Click on the following links to get to a complete list of photos
concerning the subject :