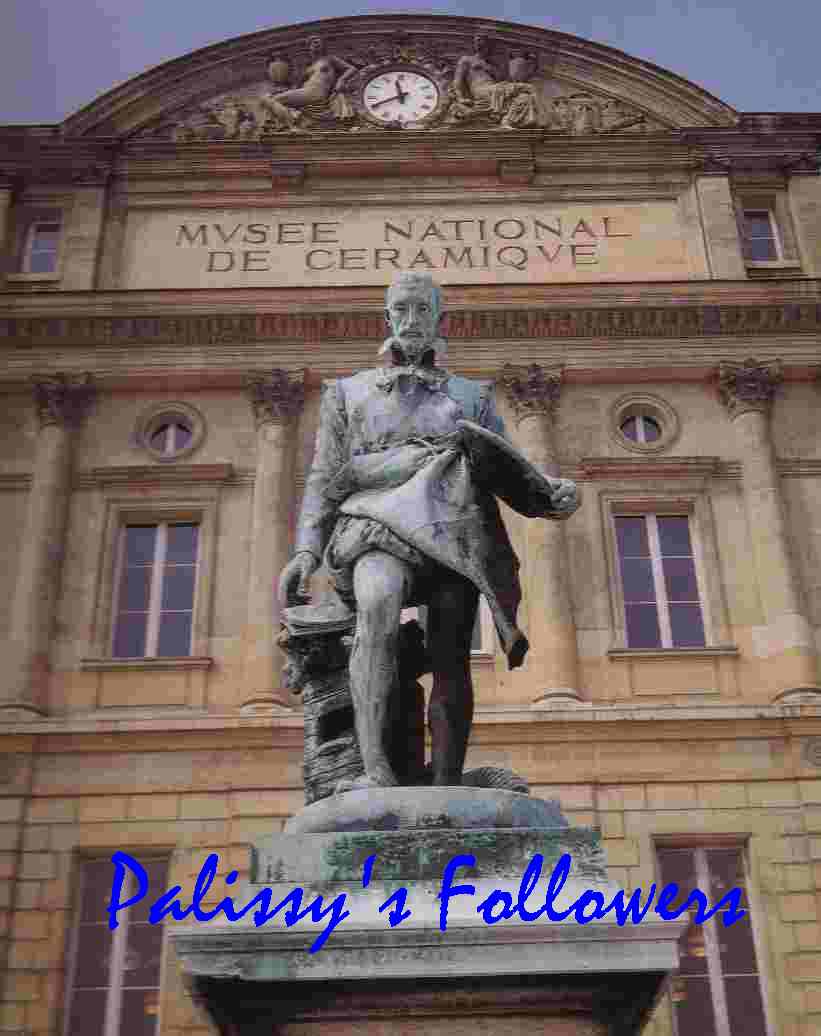 Bronze statue of Bernard Palissy in courtyard
of the National Ceramics Museum in Sèvres (France)
To any serious student of ceramics, the name Bernard Palissy conjures vision of realistically colored fish, coiled vipers, and slinking lizards in naturalistic settings. This sixteenth-century Renaissance man of France enjoyed both the patronage and protection of the royal family, particularly the queen mother, Catherine de Medici.
The Palissy revival period (1843-1900) would not only engage many skilled artists and ceramic factories in France, but would spread to other countries as well, including England and Portugal. In France, during the 19th century, two important schools were created, in Tourraine and in Paris.
Many of this artist's works appear in the collections of the world's great museums, including the Louvre and the Decorative Arts Museum in Paris, the National Ceramics Museum in Sèvres, and the Victoria and Albert Museum and the British Museum in London. The largest collection of these ceramists' works is at the Museum of Fine Arts in Tours, France, which contains nearly 160 pieces, of which about forty are on permanent display.
Click on each photo in the list to see it at the screen size :

Barbizet ? circa 1865
Dimensions 7 ½ x 5 ¼ inches
Earthen fired to the biscuit stage before the decoration with glazes is applied.
See photo page 133 attributed to Georges Pull in Palissy Ware (Katz and Lehr).
P01
Vase signed by Thomas-Victor Sergent with two large blue letters T.S.
H : 7 ¼ inches
Circa 1880
P02
Commemorative plate attributed to Alexandre Landais, circa 1890,
representing the "Château de Chenonceaux"
See in PALISSY WARE (Katz-Lehr) photos 93 page 93
Dimensions 12x9 inches
P03
Flower pot-case with two large gargoyle heads decorated with flowers and plants by Thomas-Victor Sergent signed by two large blue letters T.S.
H : 7 ¼ inches
circa 1880
P04
Jardinière, atributed to Thomas Victor Sergent. Unsigned.
circa 1870
Dimensions : 6 ¾ x 6 ¼ inches
H : 5 inches
P06
Vase by Thomas Sergent with white grapes and two very important ramsheads.
H : 7 ¼ inches
Circa 1880
P07
Signed, incized and dated "Boch 1892"
Dimensions 12x9 inches
The Boch works are extremely rare. .
P08
Signed Joseph Landais (1800-1883)
Monogram JL incised
Dimension : 7 ¼ x 4 ¾ inches
circa 1860
P09
Large leaf in very thin earthenware ornated by a water snake, snails and butterfly.
Dimensions : 14 ½ x 16 ¼ inches
Very probably from Limoges
circa 1900
P10
Vase by Thomas Sergent
H : 11 inches
With cherubs, young fauns, and two gargoyles heads.
circa 1880-1890.
The pinnacle of Neogothic art !
Signature : two large latters T.S. , in blue.
P11
Vase by Thomas Victor Sergent
H : 7 ¾ inches
circa 1880
Signed with two large blue letters T.S. Ornated by two important frogs and oakleafs.
P14
Platter, Alfred Renoleau, signed AR on the back.
Diameter 11 ¾ inches
circa 1890
Compare page 177 photo 237 in Palissy Ware by Katz and Lehr.
P15
Medicis vase by Thomas-Victor Sergent signed with two large blue letters T.S.
H : 14 inches
circa 1885
The base is a laurel crown, with four ramshead in a very strong relief. On a marbled bottom, the four seasons are appliqued.
In "Bernard Palissy" by Leonard M. Amigo, two paragraphs are devoted to this remarkable work (pages 215 and 216 – photo nr. 200).
P18
Addition June 5th, 2000

Cobalt blue majolica jug

Signed by François-Maurice

Paris, circa 1875

H : 13 inches

P19
Click here to return to the home page
Click on the following links to get to a complete list of photos
concerning the subject :